Best Silicone Teething Beads Manufacturer, Factory, Supplier In China
Silicone teething beads are usually produced using high quality and food-grade silicone materials. These are widely used as baby bracelets and necklaces. It can also be used as a silicone molar accessory for babies. Silicone beads are non-toxic and safe for babies to use.
MELIKEY SILICONE offers wholesale silicone beads that can be customized to your requirements. We provide high quality custom silicone teething beads at competitive prices. Our bulk silicone beads are available in custom sizes, logos, colors and shapes.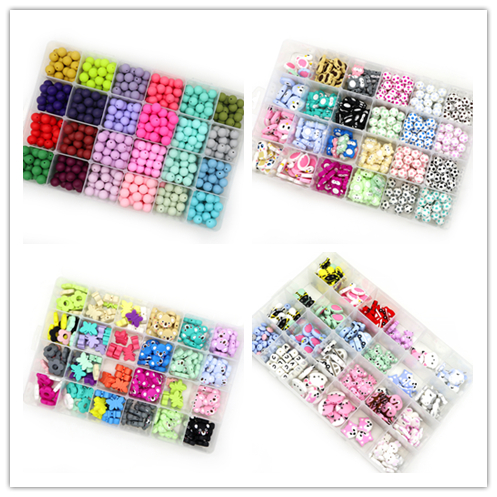 Wholesale Silicone Beads Supplier & Manufacturer In China
MELIKEY SILICONE was founded in 2016, and is one of the leading silicone teething beads manufacturers, factories & suppliers in China, accepting OEM, ODM, SKD orders. We have rich experiences in production & research development for different silicone beads types. We focus on advanced technology, strict manufacturing step, and a perfect QC system.
We offer a very wide selection of shapes for our silicone beads that you can use for many different creations. From evergreen classic round and flat beads to cute bunnies and raccoons, you'll be able to customize your silicone beads bulk in a very stylish way.
Our color range is also very large, and you can create any number of combinations with our materials. These silicone teething beads are completely safe and have been carefully tested according to three different safety regulations (LFGB, FDA and EN 71). These high quality silicone teething beads do not use any toxic materials and are absolutely suitable for children to chew.
Why Choose Us As Your Silicone Beads Supplier In China
With 6+ years of silicone beads wholesale experience, we are proud to offer our silicone wholesale beads services to other small businesses to support them in achieving their business goals; reducing product costs, increasing sales and providing the best quality safety-tested products on the market .
We know first-hand how expensive it can be to test products, how time-consuming it can be to produce, and how difficult it can be to manage inventory and supply when you're all out. Let us take the pain out of scaling your business by producing for you in volume, using safety-tested products that meet EU and US standards, and high-quality EN-71 certified materials.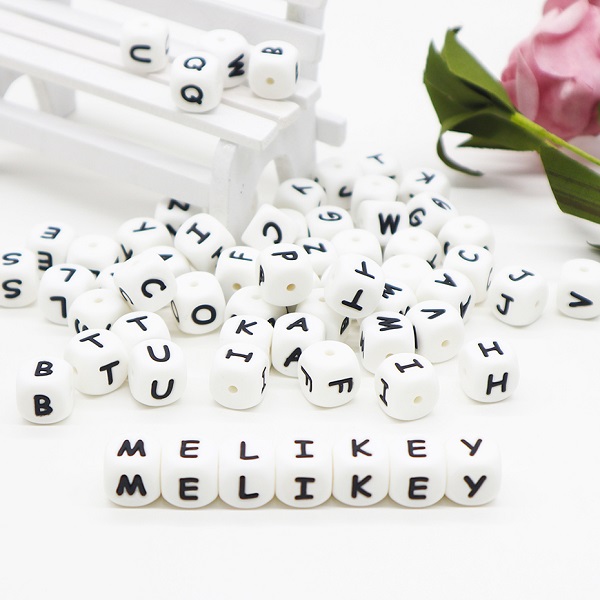 Our Range Of Silicone Teething Beads
The silicone teething beads is High-quality, chewable 100% food-grade in a variety of shapes, sizes, and colors. Custom options for your own creative projects! The Silicone Teething Beads are a very good sensory toy, DIY into wearable pacifier clips and nursing jewelry to develop the baby's creativity while nursing and chewing teeth, dressed by mother and baby, is a very good Newborn gift. 100% Food-Grade Silicone. pollution-free, wear-resistant, and not easy to be damaged.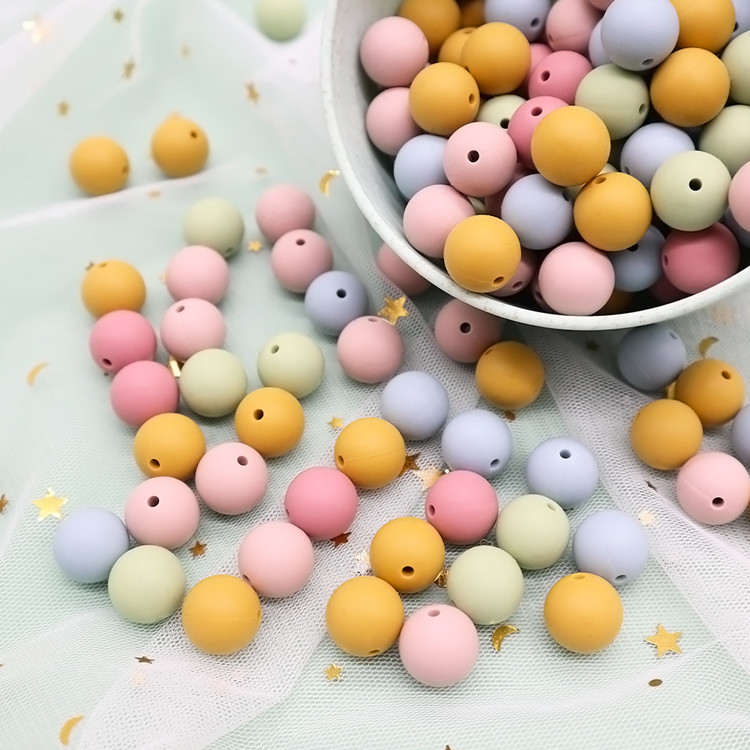 These are the classic "silicone marbles" and they are probably the most commonly used type of silicone beads we sell. They are available in 4 different diameters, 9mm, 12mm, 15mm and 20mm. Most products such as fake clips (also called pacifier clips by our American friends...!) are mostly made of round beads, although we always recommend our customers break up the design with other beads to create more Fun custom creations. The 15mm beads are also great for making beautiful silicone teething bead necklaces for mothers with teething babies.
We currently have a variety of colors to choose from: Black, Gray, Fuchsia, Green Marble, Light Salmon, Lilac, Marble White, Yellow, Cherry Red, Light Blue, Light Pink, Mint, Light Blue, Light Blue, purple, peach, pink marble, quartz powder, turquoise and more.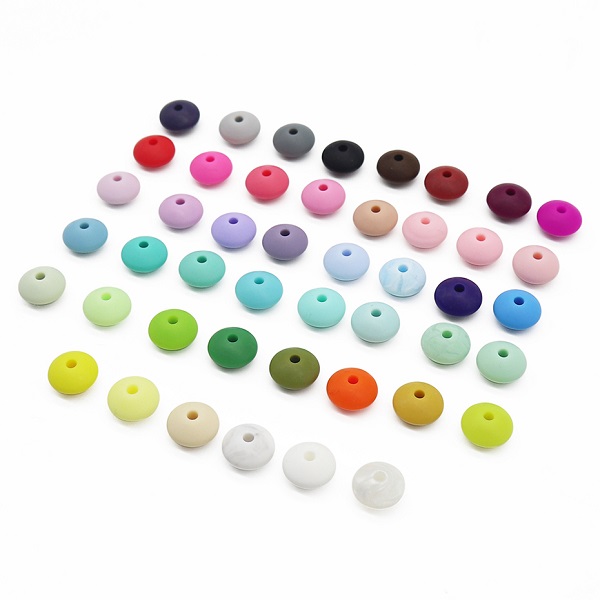 These flat silicone beads are 12mm in diameter and they are often used in combination with other beads to give a dynamic look to pieces like pacifier clips and key rings.  As cute as lentils!
We offer the following colour ranges for our flat silicone beads: black, grey, lilac, mint, baby blue, quartz pink, turquoise and many more.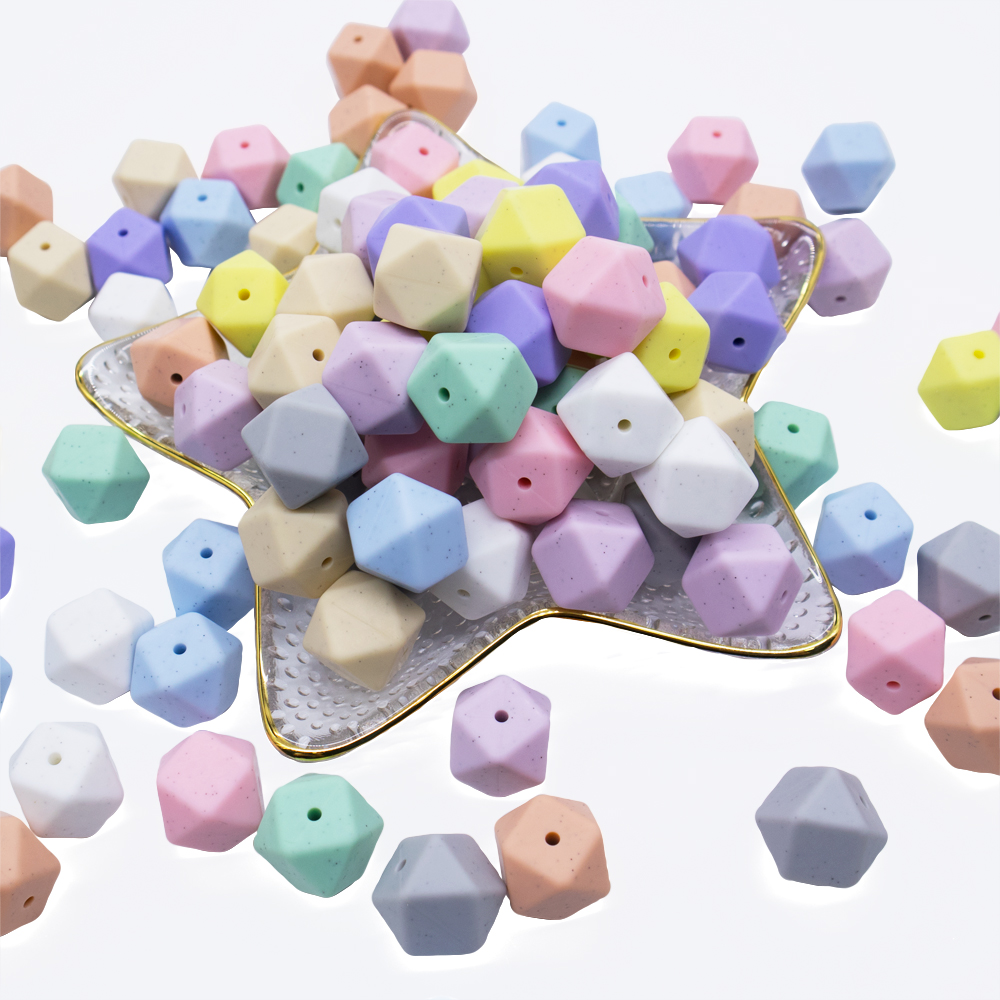 Another very popular bead is the hexagon silicone bead. We've seen our clients use them to make anything of any kind, especially long-toothed jewelry like necklaces. Our hexagon beads are so stylish and we offer them in a variety of colors, they will look great on your lovely creations!
Colors: Grey, Beige, Light Grey, White, Lilac, Marble, Mint, Baby Blue, Turquoise and many more.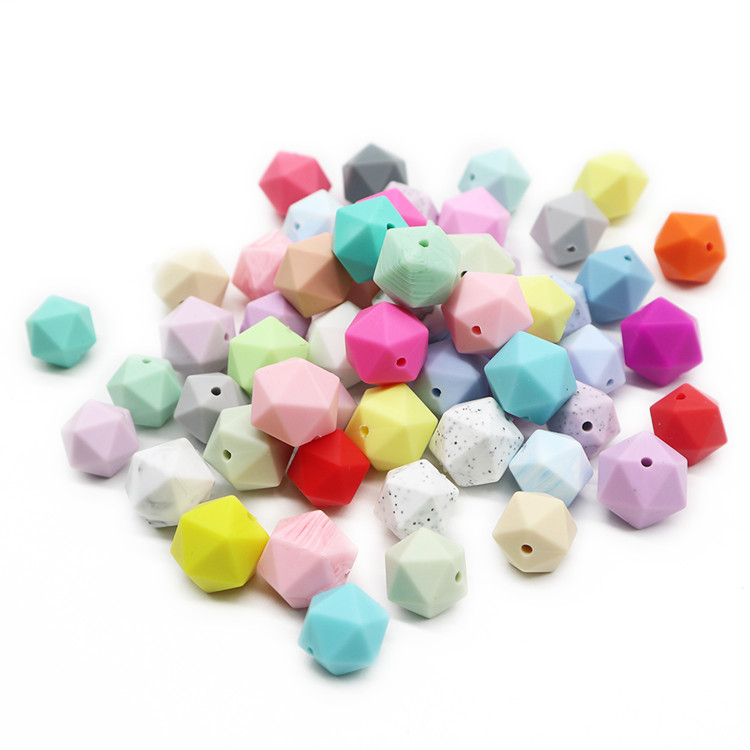 Silicone Icosahedron Beads
Our silicone polygonal beads are also often used in bracelets, necklaces and other jewelry making. Stylish and beautiful in their polygonal shapes, they are perfect for gifting, and they are ideal for any type of custom item. We have 2 sizes: 14mm and 17mm
Our silicone polygons are available in the following colors: white, yellow, beige, light blue, light yellow, orange, pink, red, granite, marble and more.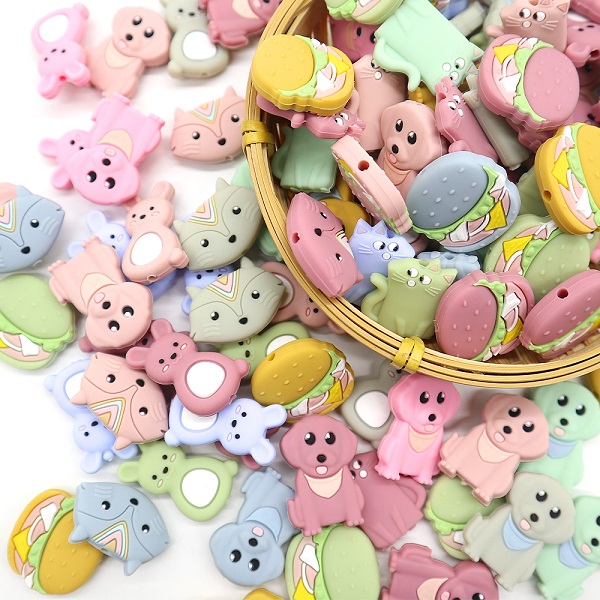 Cute animals are the favorites of children all over the world, and we have designed many different animal silicone beads. Cute and smart, your kids will love it! Can also be used as a beautiful decoration.
Who gave us incredible feedback about them! We currently offer many beautiful designs: koala, rabbit, bee, raccoon, dog, cat, fox, etc. Don't you find them irresistible?
Colors: Each animal silicone bead comes in a variety of colors, both light and dark. Please keep browsing our website to find them!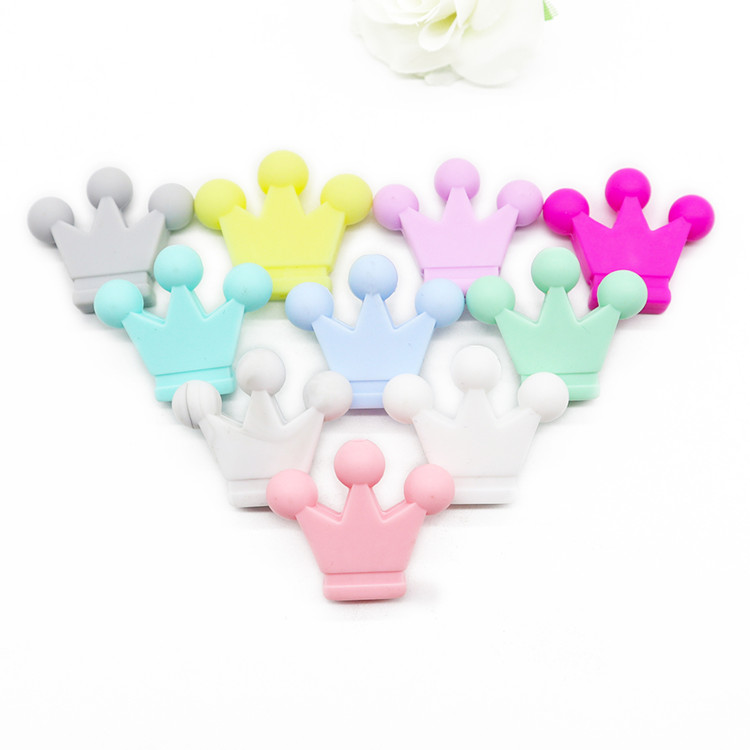 The story of the king and the princess, the story of Cinderella and Sleeping Beauty... There is always a crown in every fairy tale! We couldn't resist offering our clients some beautiful silicone crown beads, so here they are!
Colors: Grey, White, Yellow, Pink, Mint Green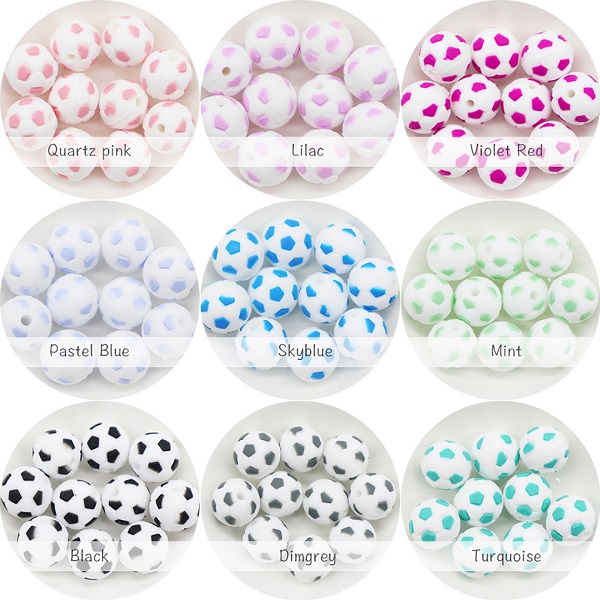 We have designed a variety of popular cute cartoon silicone beads, children's favorite cartoon shapes. Such as football, hamburgers, cars, flowers, etc., very popular. Pretty and stylish, perfect for DIY jewelry.
Color: A variety of colors for you to choose!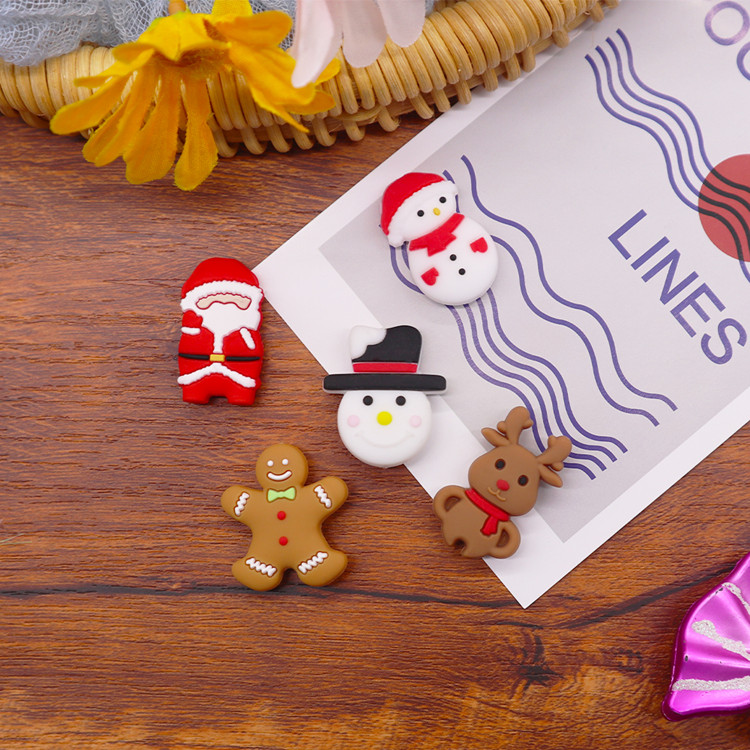 We have designed festive silicone beads for Halloween and Christmas, such as cute elk, Santa, snowman, bat, ghost, skull and other representative characters. These holiday silicone beads are perfect for big holiday sales. Can also be used as holiday decorations.
Color: Festive beads are mainly based on the color design of representative characters. The colors are simpler, but each bead comes in multiple colors.
Melikey Silicone Beads Wholesale
The most recommended and trusted brand of silicone bead products in China with the widest range of food grade, BPA free silicone beads and accessories - perfect for all your DIY needs.
We know that many of you have your own businesses to run, so we strive to have our products available when you need them. Wholesale silicone beads, we will send your order to you in the most timely manner with the best wholesale price from the factory
Melikey provides fast, reliable service and quality products
FAQ For Custom & Wholesale Silicone Beads
Melikey wholesale silicone beads in bulk for more than 10 years. As one of the leading silicone bead suppliers, we wholesale high-quality and safe silicone beads.  OEM/ODM is available.
Let us know your drawings, or your thoughts on the design, then our designer engineers can help you.
We quote mold cost and unit price according to the confirmed drawings, and then make mold/sample confirmation.
Yes, just let us know the Pantone C color number or provide us with a color swatch.
Yes, you can print your logo on silicone beads or make a logo mold on the collar or other specific area you wish.
Yes, we have our own mold department for silicone injection tools, hydraulic tools. Sometimes, we customize many different silicone molds for customers. Please email Melikey.
15 days after the 3D drawing is confirmed.
Yes, you can. Like us, current stock samples are free, but shipping will be in your account.
For existing products, it takes 1-2 days; if you want your design, it may take 3-5 days, depending on your design content.
Our products are made of 100% food grade silicone material. All materials we use can pass FDA, LFGB, CE. Material certification reports are available.
Yes, we are professional silicone products manufacturer and wholesaler. OEM orders will be accepted.
2D, 3D drawings, and specific requirements.
We accept custom orders, you are welcome to contact us immediately.
If you have a custom design, the customer will need to pay for the mold. And the mold will belong to the customer.
Yes. Sample molds can only be used for sample making. When you need to run mass production, the molds are produced in large numbers.
For bulk orders we ship by sea or air, for small orders we ship by DHL, FedEx, TNT or UPS
We have our QC department empowered with a professional QC team. "Quality First, Cutomer
Focus" is our quality policy, and we have Incoming Quality Control / In-process Quality
Control / Out-going Qualtiy Control throughout our factory operations.
We do our best to meet every request. Every custom silicone bead gutta-percha is unique because it's just for you and made with love
Let us know if you just prefer beads or beads and teether.
We will show you the colors and letters of the beads to choose from. Our consultants will also advise you. We allow a maximum of about 2-3 reschedulings.
Once you are satisfied with the above, proceed with payment.
Don't you find what you are looking for?
Generally, there are stocks of common silicone teething beads or raw materials in our warehouse. But if you have special demand, we also provide customization service. We also accept OEM/ODM. We could print your logo or brand name on teething beads body and color boxes.
Certificates For Silicone Beads
Silicone Beads Certificates: ISO9001,CE,EN71,FDA,BPA FREE ......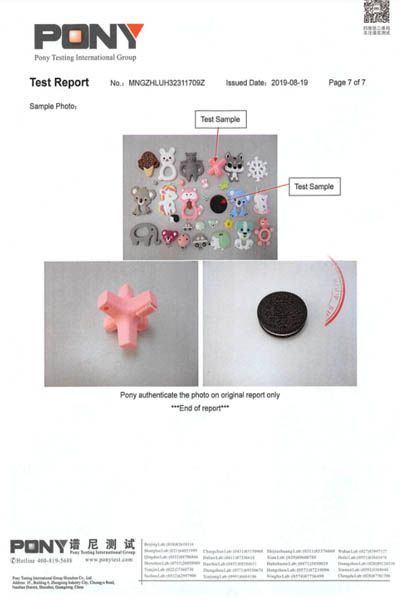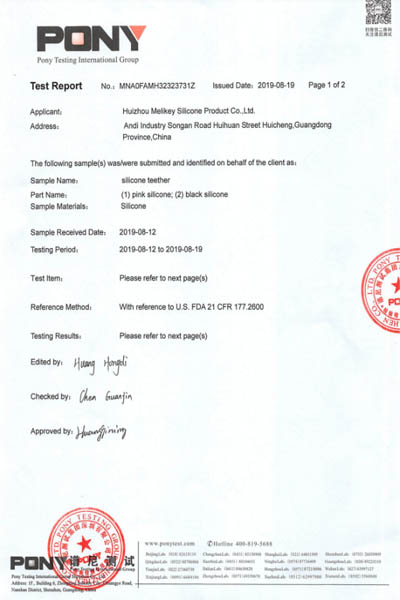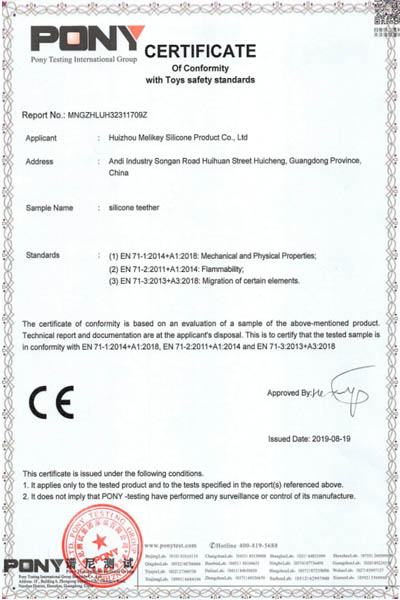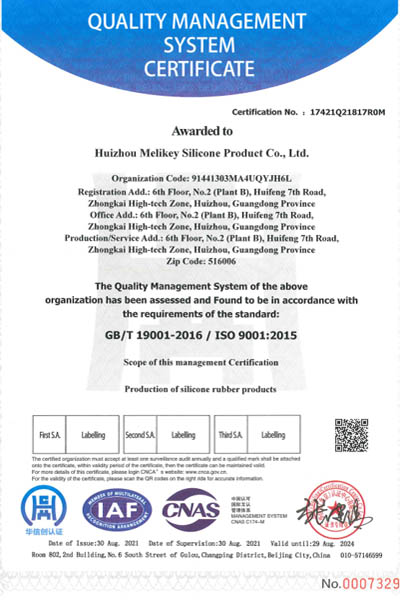 Frequently Asked Questions
Silicone beads are small round balls of silicone. Although silica gel may sound like a soft or liquid material, it is actually a solid form of silica, a natural material found on Earth
Baby silicone teething beads are safe and can be one of the best products to buy for your teething baby.  Silicone is safe and soft to chew on repeatedly to soothe your baby's gums.
As the leading silicone beads supplier. Melikey wholesale silicone teething beads for more than 10+ years. We have various styles and colors for silicone beads. You can find the best silicone beads in Melikey.
First of all, you need to find a silicone bead manufacturer who can accept customization.
Provide your design drawings or ideas to the manufacturer.
3D drawings for designers
make mold
Choose color and packaging
sample making
Confirm sample
mass production
As with any toy or item within your baby's reach, you should check our silicone beads before using them. If you notice any damage, we recommend that you dispose of it immediately. As long as your silicone beads are in good condition, it will not expire. Silicone is very durable and can last for decades if properly cared for. While our products are very durable, we still recommend that you check any toys your baby is playing with frequently to make sure they are safe.
7-8 inches
Additionally, for these types of products, CPSC staff recommends that the clips be no longer than necessary for proper operation, preferably no more than 7-8 inches overall.
We have beads in different sizes. For example, the common round beads also have four sizes: 9mm, 12mm, 15mm, 20mm. The pore size of all our beads is about 2mm.
Melikey wholesale silicone beads that can be customized to your requirements. We provide high quality custom silicone beads at competitive prices. Our bulk silicone beads are available in custom sizes, logos, colors and shapes.
Yes, silicone beads are safe for babies. Melikey takes the safety and quality of silicone beads very seriously and manufactures silicone beads guaranteed to use the highest quality teething products.
Silicone is the best material to help your baby with teething because it is soft, easy to care for, can be frozen, and is fun for your baby to chew.
The silicone we use has the following qualifications: 100% food grade silicone, BPA free, 100% non-toxic and tasteless, FDA approved, lead free, PVC free, mercury free, phthalate free, CE certified, SGS certified, CCPSA certified, LFGB approved.
We absolutely must stress that you don't let your baby sleep with anything attached to it, or let them sleep with toys. You should always supervise your baby whenever they play with any toys.
Babies can start teething as early as 4 months or as late as 14 months. We recommend that the best time to give your baby a teething toy is when your baby starts putting everything in his mouth. While you can't stop them from grabbing anything, you can at least buy them a teething toy.
Just as we hurt ourselves, putting pressure on the painful area can help relieve some discomfort. This helps relieve some of their discomfort by chewing and putting pressure on their gums. Our Frozen Silicone Beads are also great for soothing baby gums, as the cooling sensation helps remove some irritation.
Babies are naturally impulsive and want to start putting everything in their mouths. We all know that if you take away what they want, they can fuss and get a little gaffe! By giving your baby something you know is safe to chew on, soothes his gums and you don't need to take away, silicone beads are probably the best way to go! One of the effective products that can help you soothe your teething baby.
Almost everything in a little baby's life is a new experience. Essentially, they're programmed to test their senses by touching, feeling, and yes, putting things in their mouths! We offer a number of unique features in our range of silicone baby beads that will keep your baby Safely learn about different senses, sensations, shapes, textures.
We have different silicone beads for you to buy, including round beads, hexagonal beads made of silicone or wood, various colored silicone beads,Unique textured wooden beads, cute animal beads, cartoon silicone beads, etc.