Baby Hexagon Beads Wholesale & Custom
Melikey Hexagon Beads Wholesale
As a leading hexagonal beads wholesale supplier, Melikey is committed to providing our customers with a wide range of services and advantages. Below are details of the services we can provide:
Large Stocks

We have hexagonal beads in a wide variety of colors, sizes and finishes for you to choose from. Our stock is carefully selected to meet the diverse needs of our customers, and we are constantly updating it to keep up with the latest trends and styles.
Safe Material

Our hexagonal beads are made of food grade silicone, a durable and safe material that is widely used in various industries. It is non-toxic, odorless, and free of BPA, PVC, and other harmful chemicals that may pose a risk to human health.
Competitive Price
We offer competitive pricing and deep discounts on bulk purchases to help our customers save money. Our custom pricing model also enables customers to customize their orders and buy only what they need, avoiding unnecessary expenses.

Melikey offers unrivaled service and advantages when purchasing hex beads in bulk. From a wide range of high-quality products and excellent customer service, to competitive prices and convenient online ordering, we are committed to making our customers have a smooth and satisfying experience.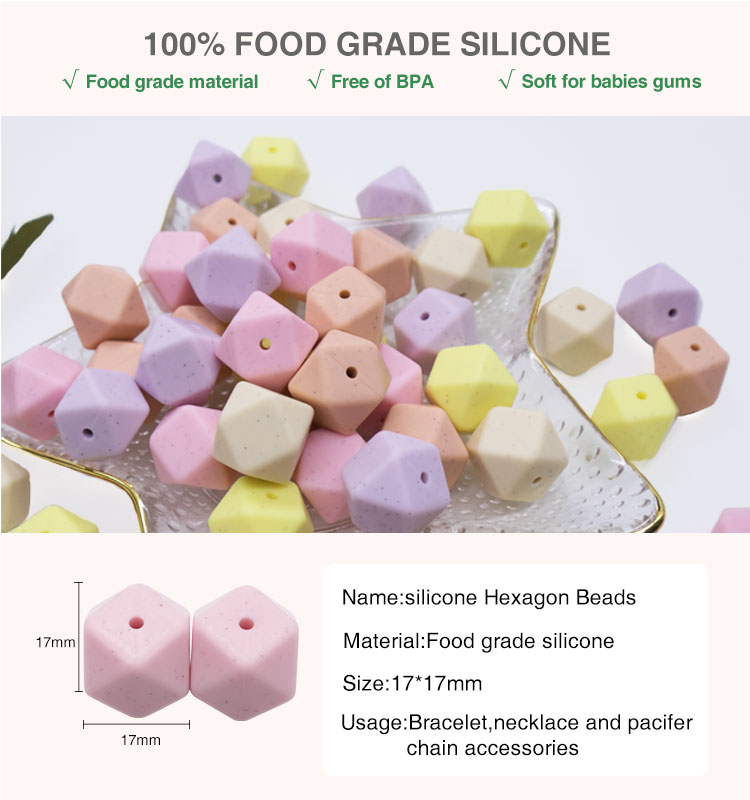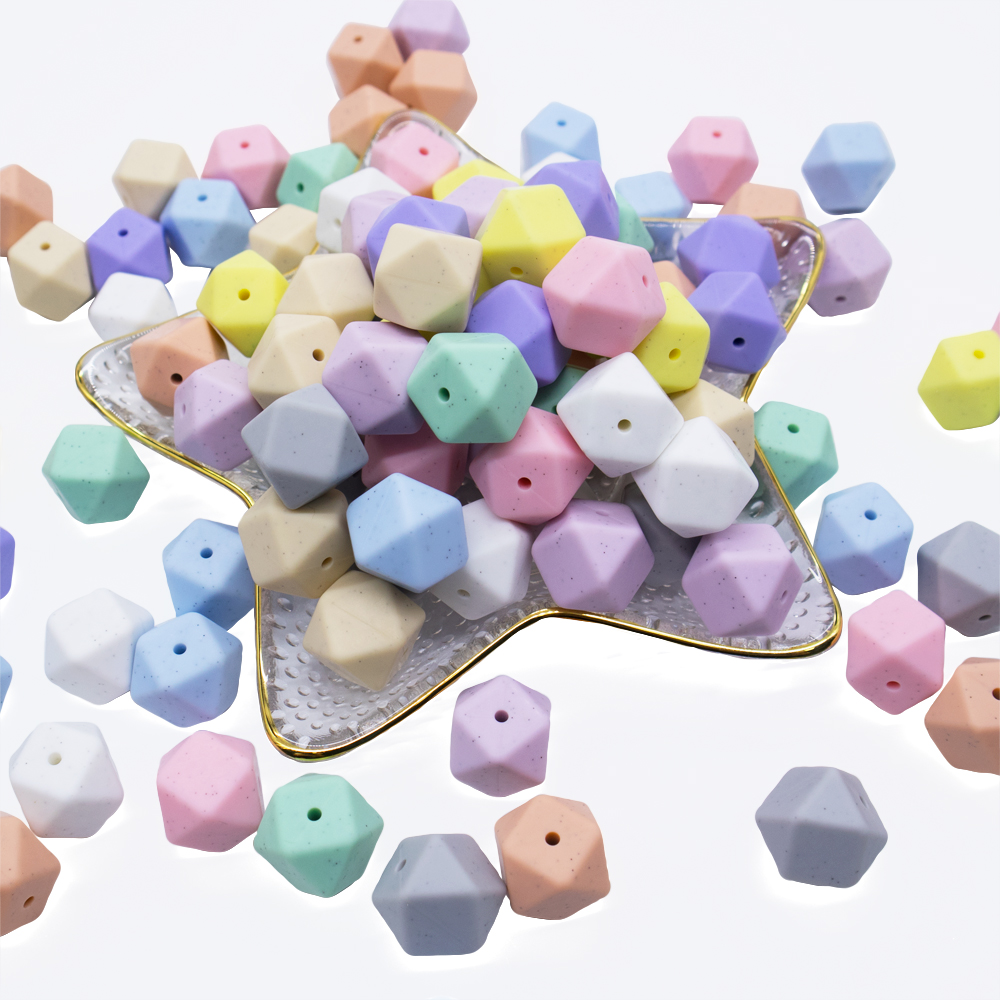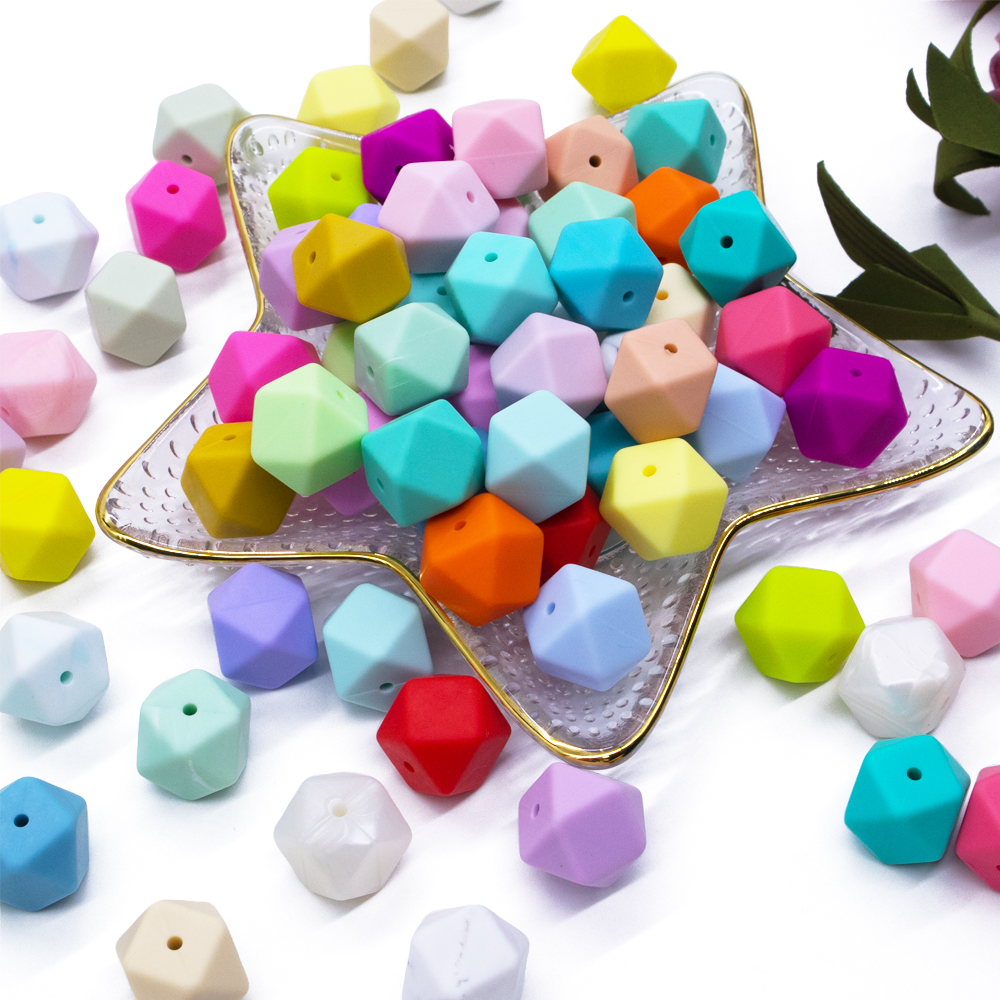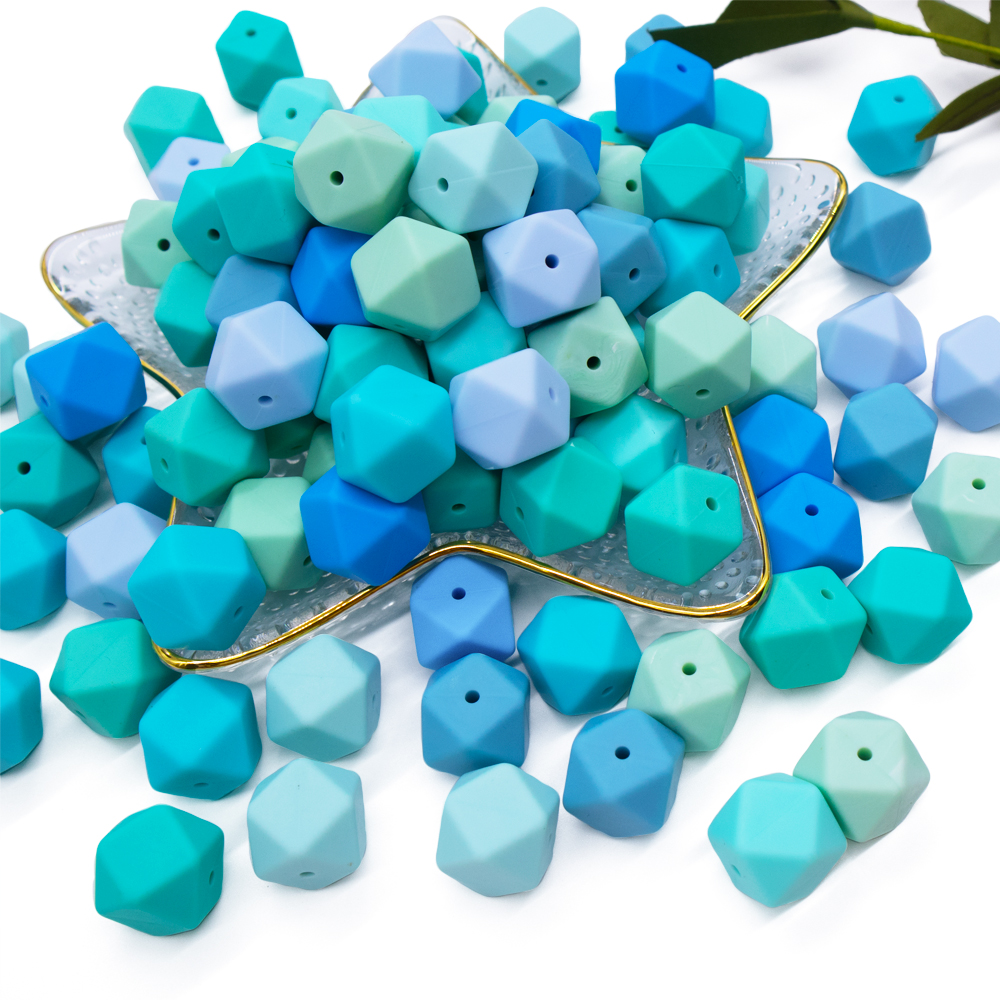 hexagon shaped silicone teething beads wholesale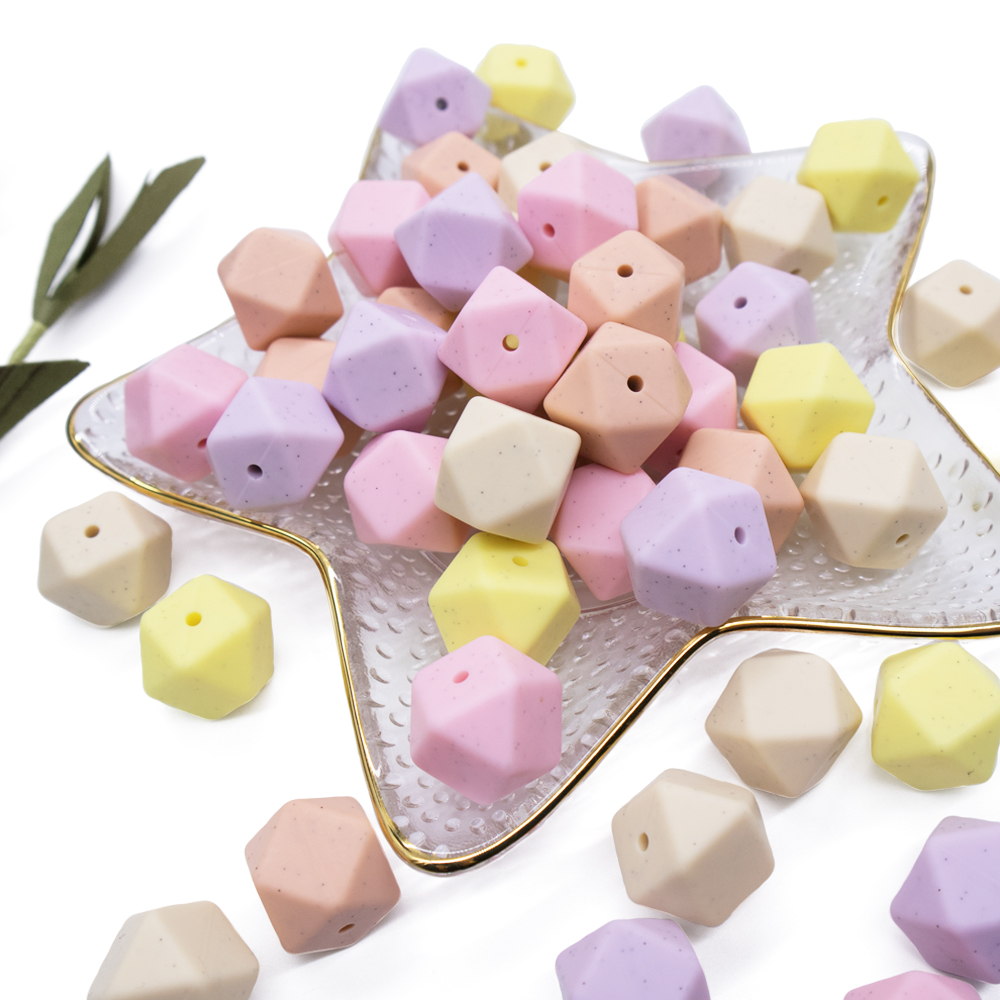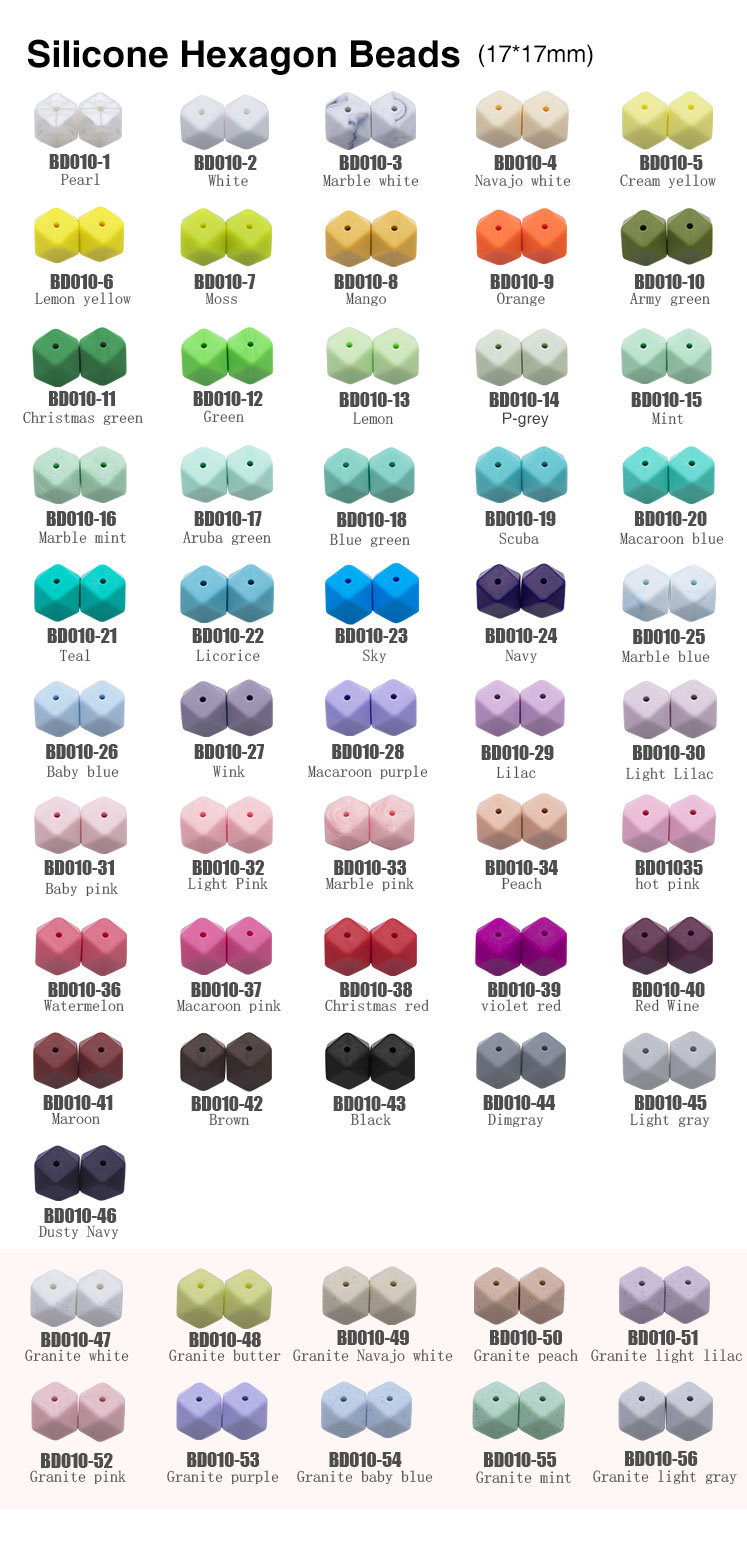 Don't you find what you are looking for?
If you can't find the silicone beads you're looking for, our team at Melikey is ready to help you find alternative options that might be right for your project. We have a wide variety of silicone beads in different colors, shapes and sizes to suit your needs.
Additionally, we can work with you to create custom beads that meet your specific requirements. Our team can help you design and manufacture beads in the color and shape you need, ensuring you have the perfect material for your project.
Melikey: A Leading Hexagon Beads wholesale Manufacturer In China
Melikey is a leading wholesale hexagon beads manufacturer committed to providing high quality products and exceptional customer service.
1. Reliable Quality: We have strict quality control methods to ensure the highest quality of every product that leaves our production facility.
2. Competitive Prices: Melikey offers some of the most competitive prices on the market without sacrificing quality.
3. Extensive catalog: Our catalog offers hexagonal beads in many colors, sizes and shapes.
Melikey prides itself on offering the most affordable and highest quality hex beads on the market. Therefore, our company is trusted by wholesalers and retailers, and we have supported and cooperated with them many times. Choose Melikey for all your hexagon bead needs and receive top-notch products and service.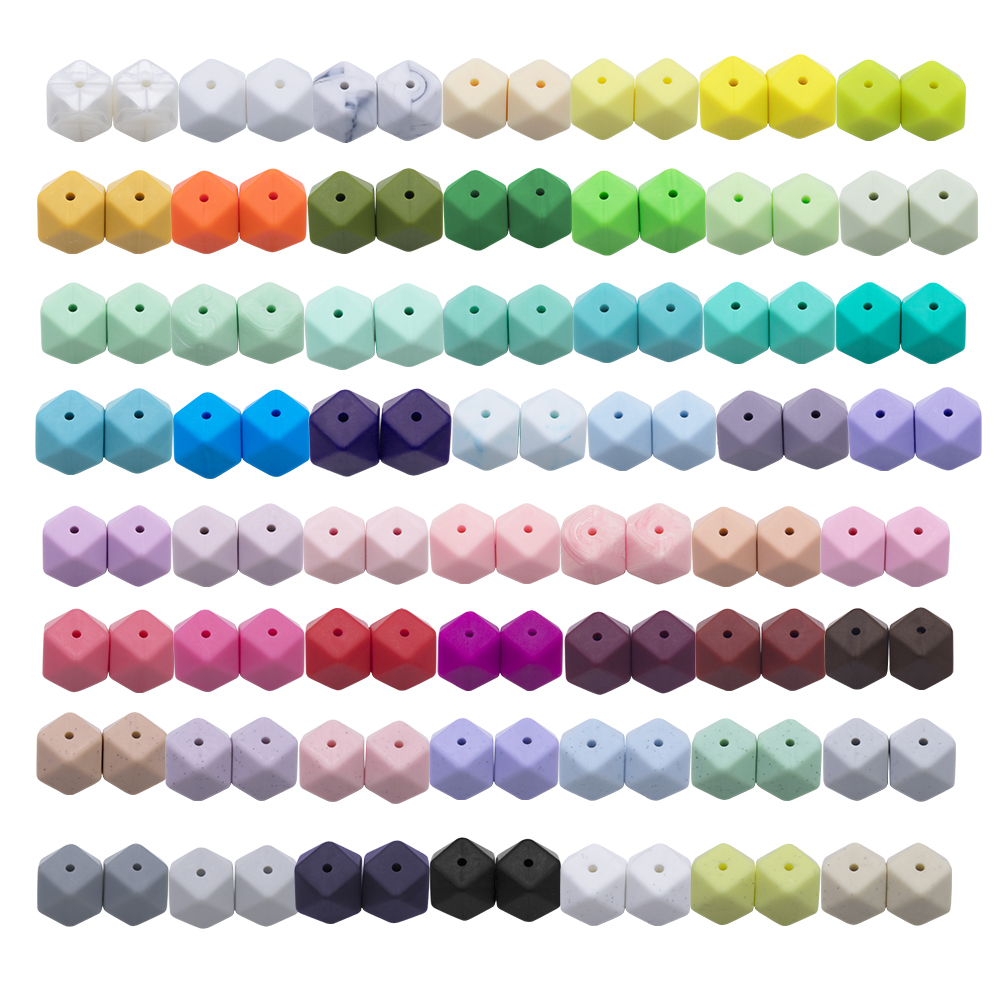 How to custom our own silicone beads?
At Melikey, we offer custom silicone bead manufacturing services to meet your specific needs. Our expert team can help you create and design custom silicone beads in various shapes, sizes and colors according to your requirements.
First, please provide us with clear design files or specifications of the beads you want, such as size, shape, color and any other details that will help us create your custom beads. Our team will go through the design process with you, make samples for your approval, and start the production process after you confirm the order.
Our custom silicone bead manufacturing services come with quality control checks to ensure the beads meet the highest quality standards. We also provide competitive prices, prompt delivery and excellent customer service to ensure your 100% satisfaction.
Contact us today to start your custom silicone bead order and let us help you realize your vision!
Certificates For Silicone Beads
Silicone Beads Certificates: ISO9001,CE,EN71,FDA,BPA FREE ......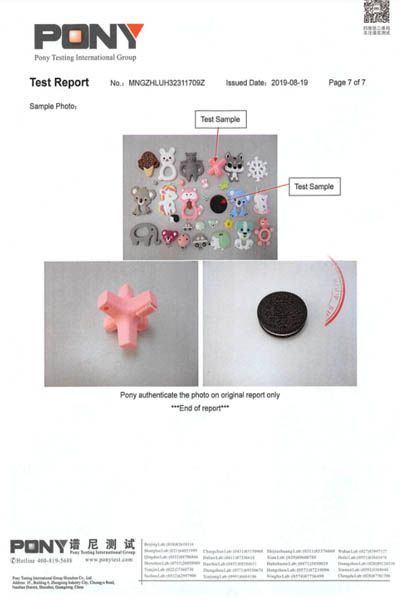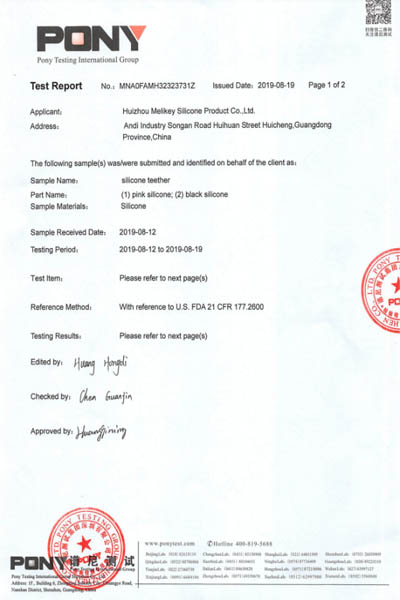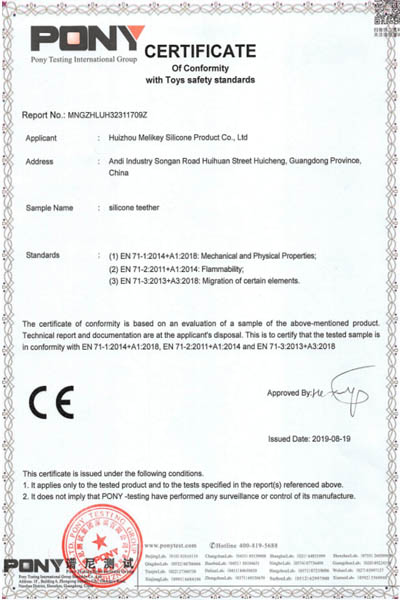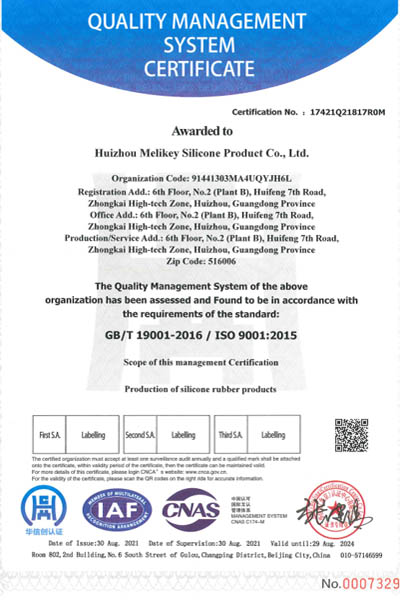 FAQ For Custom & Wholesale Silicone Teething Beads
Silicone teething beads are soft, chewable beads made from food-grade silicone that are safe for babies to chew on during teething stages.
Yes! At Melikey, we offer custom manufacturing services to make silicone teething beads in various shapes, sizes, and colors to meet your specific needs.
The lead time for custom silicone teething beads is typically 15-20 working days after the sample is approved.
Pricing for custom silicone teething beads varies depending on the design, size, and quantity ordered. Please contact us with your specific requirements for a quote.
Yes, our silicone teething beads are made from food-grade silicone that is BPA-free, phthalate-free, and lead-free, making them safe for babies to chew on.
Yes, our silicone teething beads are easy to clean using warm water and mild soap. They are also dishwasher safe.
Silicone teething beads provide relief for babies' sore gums during teething stages, are safe and non-toxic to chew on, and can be easily cleaned and sanitized.
Yes, we offer wholesale orders of silicone teething beads. Contact us with your order quantity for pricing and delivery details.
We accept payment via wire transfer, PayPal, and credit card.
Yes, we ship our silicone teething beads worldwide. Shipping fees may apply depending on the destination and order quantity.